Click on the dropdown boxes in the top menu bar.
Music, Lyrics, Movies, Television, Author's Quotes and Photographs (Visuals)
Entry: The Phoenix Project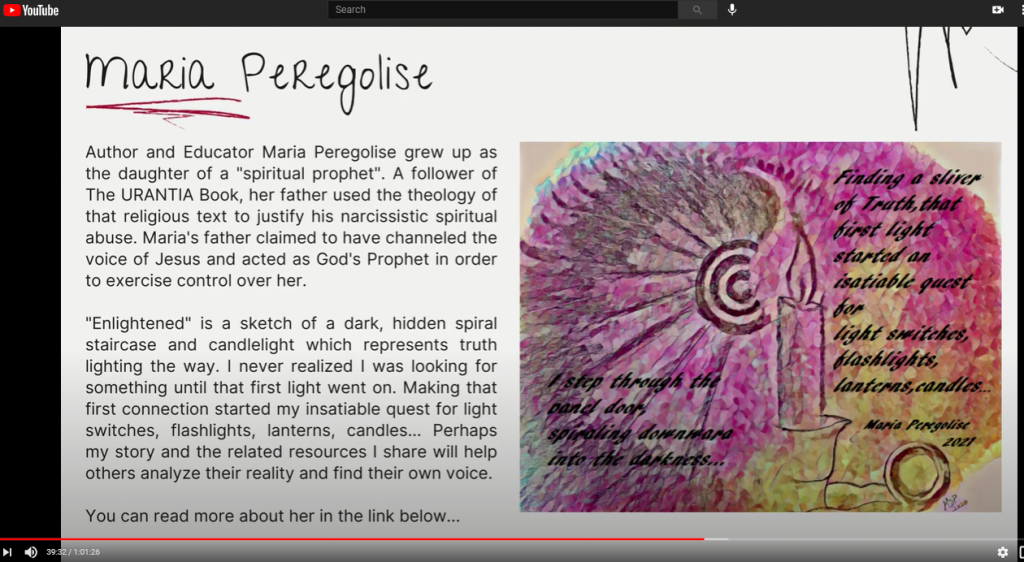 Nori Muster
ICSA Annual Conference, https://whova.com/portal/webapp/annua3_202107/Agenda/1709278
Jul 1 – 3, 2021
at. Jul 3, 20212:00 PM – 2:50 PM
This session will demonstrate how to use creative art to treat people who exit cults, or cult-like situations. It will introduce a form of art therapy known as the Gestalt Art Experience, founded by the late Dr. Janie Rhyne, a Gestalt therapist who studied under Fritz Perls. Participants will also learn the categories of cultic abuse and neglect, including the different experiences of those raised in a group, compared to those who joined their groups as adults.
Arts Editor, ICSA Today
SPEAKING AT: Treating Cultic Abuse with Art Therapy (LIVE Q&A Available)
July 3, 2021, 2:00 PM – 2:50 PM (America/New_York)
BIO: Nori Muster, MS, is the author of
Betrayal of the Spirit: My Life Behind the Headlines of the Hare Krishna Movement (University of Illinois Press, 1997),
Cult Survivors Handbook: Seven Paths to an Authentic Life (2010), and
Child of the Cult (2012).
She was an ISKCON member from 1978-1988, then earned her Master of Science degree at Western Oregon University in 1991 doing art therapy with juvenile sex offenders. She is currently a freelance writer and adjunct professor, based in Arizona.
Her website for cultic studies information is norimuster.com/writing/culticstudies.html
AFFILIATION ICSA Today, Arts Editor
EDUCATION, UC Santa Barbara, BA,Sociology,1977-1978, Western Oregon State College, MS,Interdisciplinary Studies,1990-1991,
Arizona School of Real Estate and Business real estate sales agent license and real estate instructors license,real estate,2005-2006, LOCATION Tempe US